THE place for piano sheet music / big band arrangements / vocal sheet music / karaoke backing tracks online
Change currency to: | | | | |
THAT'S ENTERTAINMENT (BIG BAND CHART)
Judy Garland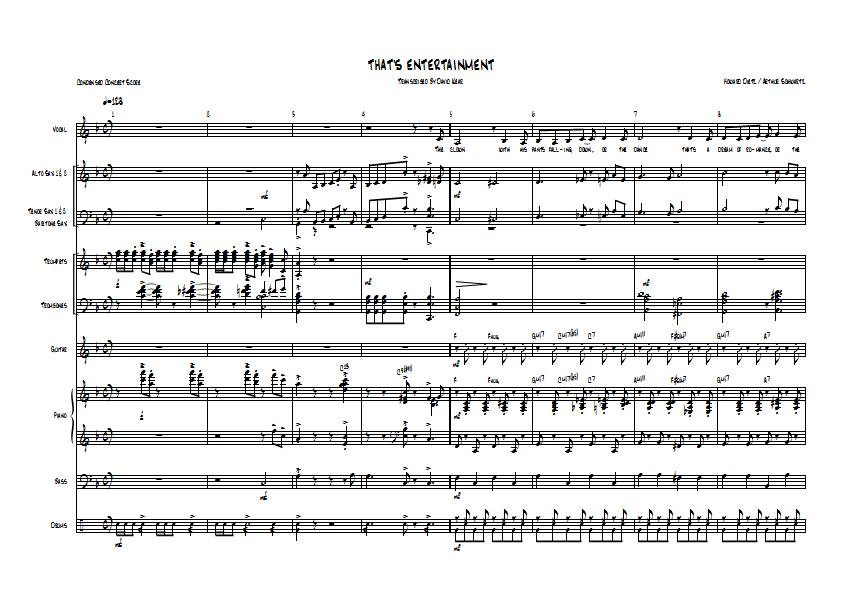 THAT'S ENTERTAINMENT (FROM THE VERY BEST OF JUDY GARLAND) (DIETZ / SCHWARTZ)
BIG BAND, PRICE £30
Artist: Judy Garland
CLICK HERE FOR PDF SCORE SAMPLE
Cart purchases will be sent by post. Alternatively, for immediate download please click below
At the end of the payment process please click the 'Return to Merchant' link for access to the download page
A transcribed adaptation of Judy Garland's studio recording of this famous Arthur Schwartz tune from the feature film The Bandwagon. The orchestral arrangement has been tastefully adapted for big band and works really well with the saxes closely following the original string parts. After the initial AABA structure is sung, the entire band plays two verses and then the vocal re-enters singing the B section again. After a modulation up a semitone from the original key of F major, the final verse is sung followed by an outro that mirrors the intro in harmony but with a nice twist at the end. Arranged for 5444 big band, complete with score and parts.
For further information or to place an order, please send an email to: info@cabotmusic.co.uk
The clown with his pants falling down,
Or the dance that's a dream of romance,
Or the scene where the villain is mean,
That's entertainment!
The lights on the lady in tights,
Or the bride with the guy on the side,
Or the ball where she gives him her all,
That's entertainment!
The plot can be hot, simply teeming with sex,
A gay divorcee who is after her ex,
It can be Oedipus Rex
Where a chap kills his father and causes a lot of bother.
The clerk who is thrown out of work
By the boss who is thrown for a loss
By the skirt who is doing him dirt,
The world is a stage; the stage is a world of entertainment!
It might be a fight like you see on the screen,
A swain getting slain for the love of a queen,
Some great Shakespearean scene
Where a ghost and a prince meet and everyone ends in mincemeat.
The gag may be waving the flag
That began with a mystical hand,
Hip hooray! The American way,
The world is a stage; the stage is a world of entertainment!