THE place for piano sheet music / music books / guitar sheet music / music scores / big band charts / printed music / vocal sheet music / song books / karaoke backing tracks online
The first in a series of piano books is now available, entitled The Cabot Book of Popular Classics and Classic Pop, No. 1 (Price £12[GBP] / $18[USD], Order No. CAB001, ISMN: M-708026-00-6). The contents list is as follows:
Each of the piano books in this series will consist of five classical pieces (also available individually, Price £3[GBP] / $4-50[USD] - please click on the song name for download instructions) and five popular songs. The latter will be in 'audition' format, consisting of piano accompaniment and a separate vocal stave.
Several more 'audition arrangements' have now been completed (see list below), which we hope to include in The Cabot Book of Popular Classics and Classic Pop series in due course. These are in piano-vocal 'audition' format, where the piano part is an accompaniment to the sung melody. In most cases, the piano accompaniment is a note-for-note transcription of what is actually played on the original recording. Repeat sections have seldom been used, and so variations in the vocal and/or piano part for 2nd and 3rd verses are accurately represented.
These arrangements, which are not available from any other publisher, can be used with confidence for auditions and professional performances. Following a number of requests, we hope to make them all available to customers individually (Price £3[GBP] / $4-50[USD]). Arrangements completed so far can be downloaded by clicking on the Paypal 'Buy Now' buttons in the list below, or from individual web pages for each title accessible by clicking the song name. Alternatively, please send an email to: info@cabotmusic.co.uk
* * *
AUDITION ARRANGEMENTS
* * *
All By Myself (from Bridget Jones's Diary)
(lead vocal + piano accompaniment + chord symbols)
Artist: Jamie O'Neal
* * *
(lead vocal + piano accompaniment + chord symbols)
Artist: Randy Crawford
* * *
Every Time We Say Goodbye
(lead vocal + piano accompaniment + chord symbols)
Artist: Simply Red
* * *
Get Here If You Can
(lead vocal + piano accompaniment + chord symbols)
Artist: Oleta Adams
* * *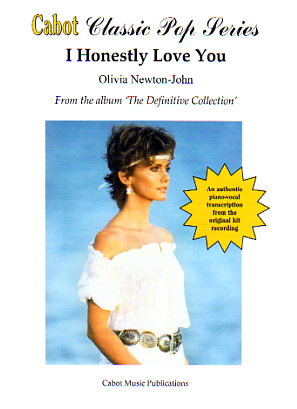 (lead vocal + piano accompaniment + chord symbols)
Artist: Olivia Newton-John
Click below for immediate download
At the end of the payment process please click the 'Return to Merchant' button for access to the download page
* * *
I Remember You (from Songs From The Last Century)
(lead vocal + piano accompaniment + chord symbols)
Artist: George Michael
* * *
It's All Coming Back To Me Now (from Falling Into You)
(lead vocal + piano accompaniment + chord symbols)
Artist: Celine Dion
Click below for immediate download
At the end of the payment process please click the 'Return to Merchant' button for access to the download page
* * *
Nature Boy (from A New Day Has Come)
(lead vocal + piano accompaniment + chord symbols)
Artist: Celine Dion
* * *
Neighborhood (from Ally McBeal)
(lead vocal + piano accompaniment + chord symbols)
Artist: Vonda Shepard
Click below for immediate download
At the end of the payment process please click the 'Return to Merchant' button for access to the download page
* * *
Out Here On My Own (from Fame)*
(lead vocal + piano accompaniment + chord symbols)
Artist: Irene Cara
* * *
Over The Rainbow (from Songbird)
(lead vocal + piano accompaniment + chord symbols)
Artist: Eva Cassidy
* * *
Promise Me
(lead vocal + piano accompaniment + chord symbols)
Artist: Beverley Craven
* * *
Save The Best For Last
(lead vocal + piano accompaniment + chord symbols)
Artist: Vanessa Williams
* * *
So Far Away (from Tapestry)
(lead vocal + piano accompaniment + chord symbols)
Artist: Carole King
* * *
The End Of The World (from Ally McBeal)
(lead vocal + piano accompaniment + chord symbols)
Artist: Vonda Shepard
* * *
What I Did For Love (from A Chorus Line)
(lead vocal + piano accompaniment + chord symbols)
Artist: Priscilla Lopez
* * *
When She Loved Me (from Toy Story 2)
(lead vocal + piano accompaniment + chord symbols)
Artist: Sarah McLachlan
Click below for immediate download
At the end of the payment process please click the 'Return to Merchant' button for access to the download page
* * *
Yesterday Once More
(lead vocal + piano accompaniment + chord symbols)
Artist: The Carpenters
* * *
You've Got A Friend (from Tapestry)
(lead vocal + piano accompaniment + chord symbols)
Artist: Carole King
* * *
Cwm Rhondda / Bread Of Heaven - Wales Victorious (from Premiere)
(lead vocal + piano accompaniment + chord symbols)
Artist: Katherine Jenkins
Click below for immediate download
At the end of the payment process please click the 'Return to Merchant' button for access to the download page
* * *
Habanera from Bizet's Carmen (from Premiere)
(lead vocal + piano accompaniment + chord symbols)
Artist: Katherine Jenkins
Click below for immediate download
At the end of the payment process please click the 'Return to Merchant' button for access to the download page
* * *
Absence (based on Satie's Gymnopedie No. 1) (from Premiere)
(lead vocal + piano accompaniment + chord symbols)
Artist: Katherine Jenkins
Click below for immediate download
At the end of the payment process please click the 'Return to Merchant' button for access to the download page
* * *
---
For further information, please send an email to: info@cabotmusic.co.uk
*Included in The Cabot Book of Popular Classics and Classic Pop No. 1